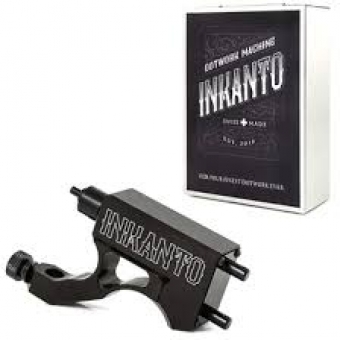 Omschrijving
Inkanto Dotwork Rotary Tattoo Machine
The Inkanto Dotwork tattoo machine of the Swiss manufacturer INK.DC GmbH was specially developed for tattooing dotwork tattoos.
She's a hybrid. This means normal tattoo needles as well as cartridges can be used. The close cooperation with Swiss quality companies allows the Inkanto to meet the high demands of tattoo artists.
The unique powerful transmission motor carries out the up and down movements automatically. This ensures a strong but slow punch. The machine is usually used in the range of 8-10 volts. However, it is up to the artist himself what speed he prefers. The Inkanto machine starts at about 2 volts and experienced tattooists can also tattoo speed-dots at higher volts.
The Inkanto is super light, makes hardly any vibration and is very quiet.
Technical Specifications:
Weight: 89g
Height: 56mm
Width: 20mm
Length: 94 mm
Body: High quality aluminium
Gear Motor: 12 Volt
Optimal working-voltage: 8-10 Volt
Connection Clipcord
Beoordelingen (0)
Beoordeel
Note: HTML-code wordt niet vertaald!
Verder