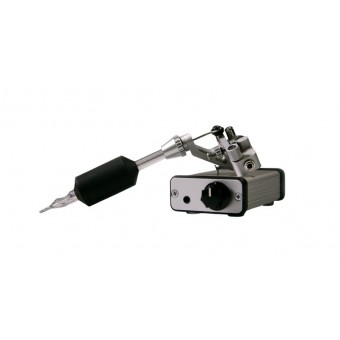 Omschrijving
Lightest rotary tattoo machine
Simple, clean and efficient new age tattoo machine
100% maintenance free
Fully autoclavable (including the motor)
Lightest tattoo machine on the market (46g)
Ergonomic holding position with both liner and magnum needles
Including:
1 x LACEnano rotary tattoo machine
1 x LACEnano power supply
1 x Wall-wart adapter with EU, UK and USA electric plugs (you get all three)
1 x LACEnano power cable
1 x Aluminum flight case with custom foam insert to store all of the above
This being a magnetic drive machine, it will not work well with cartridge needles!
Unlimited Adjustability
The stroke is infinitely adjustable between 06mm. The give is also infinitely adjustable from rock hard to soft as a feather. You can adjust both in 2 seconds with your thumb with gloves on, while tattooing; no more buying and changing expensive cams.
No Maintenance
There is no need to lubricate any part of the LACEnano tattoo machine. And when you need to clean it, you can just throw the whole thing, motor and all, into the autoclave. No dis-assembly or anything, how about that.
Beoordelingen (0)
Beoordeel
Note: HTML-code wordt niet vertaald!
Verder
Afbeeldingen (2)